Private Charter flights around the World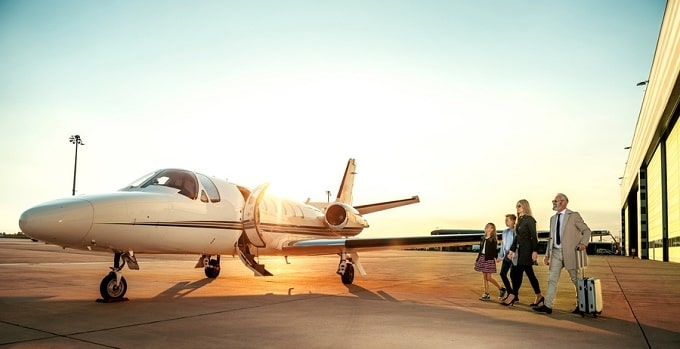 URGENT DEPARTURES ARE POSSIBLE ON REGIONAL AND INTERNATIONAL DIRECTIONS
We offer a wide selection of aircraft from proven charter flight operators in Europe.
We can provide aircraft of the following categories:
Light Jets
Light aircraft
* Number of passengers up to 7 people
* Speed: 650-850 km / h
* Flight distance: 2200-4000 km or 3.5 hours of flight
* Popular aircraft models: Learjet 40/45XR, Citation Bravo/CJ3/CJ4, Hawker 400XP
Mid Size Jets
Mid-Size Jets
* Number of passengers up to 8 people
* Speed: 750-850 km / h
* Flight distance: 3500-5500 km or 5.5 hours of flight
* Popular aircraft models: Cessna Citation XLS, Gulfstream 150, Hawker 800 / 850 / 900, Learjet 55/60/60XR

Super Mid Size Jets
Super Mid-Size Jets
* Number of passengers up to 9 people
* Speed: 850-950 km / h
* Flight distance: 5200-6300 km or up to 10 hours of flight
* Popular aircraft models: Challenger 300 / 350, Gulfstream 200, Citation Sovereign, Hawker 4000, Citation X, Falcon 2000
Heavy Jets
Large aircraft
* The number of passengers from 12 to 19 people
* Speed: 800-900 km / h
* Flight distance: 6000-12000 km or up to 14 hours of flight
* Popular aircraft models: Bombardier Global 5000 / 6000, Challenger 604/605/850, Embraer Legacy 600/650, Gulfstream 400/450/550/650, Global 5000, Falcon 900
Airliners for 20 people or more
* Speed: 500-900 km / h
* Flight distance: up to 1000-9000 km
* Popular aircraft models: Boeing 737-300/737-500, Airbus A220-300/319/320, ATR 72, Bombardier CRJ 200/CRJ-700/CRJ-900/ Q400 NextGen, Embraer 145/190
You can get a free consultation and flight calculation by phone +371 28 322 555 or by filling out the form:
THE PRICE OF THE FLIGHT DEPENDS ON THE DIRECTION, THE NUMBER OF PASSENGERS AND OTHER, SPECIAL REQUESTS AND FACTORS.
Send a message
Why do we recommend choosing private charter flights?
* Departure and landing times are customized for you
* The ability to travel to those destinations where flights of regular airlines do not fly
* Special comfort during the flight
* VIP terminals allow you to avoid queues and long baggage inspection
* Privacy and 24/7 support
Features of business aviation
Popular passenger airliners used by major airlines are only capable of taking off from large airports with long runways. The most business aviation aircraft, due to the design features, can take off and land even at small airfields.
All modern business jets are designed for two pilots. From our side, it is possible to organize on-board service at your request.
IMPORTANT! A non-personalized list of passengers will allow you to replace one passenger with another without charging additional financial costs.
Flight safety is strictly controlled at all stages, and the information is confidential!
Flight planning and preparation
Our company offers full charter preparation.
We negotiate with the airports of departure and arrival on the provision of a slot, organize ground handling at the airport, plan refueling along the route, if necessary. Each aircraft is provided with a professional crew, a detailed health check of the pilots and stewards is carried out, right before departure and regularly according to the plan.
On board during the flight, each passenger will be provided with disposable medical masks and, if necessary, disposable gloves.
As soon as you place an order for a business jet, we start planning the flight, preparing the plane and the crew. The aircraft will be selected according to your requirements, as well as according to the range and complexity of the flight.
Our company has a professional and experienced staff, so we will resolve any difficulties even before the plane leaves the airport.